I'm surprised that I've continued
It's Monday! What are you reading?
for 5 weeks! If you know me at all, I'm notorious for starting things and never following through (the original purpose of this blog is a prime example). Even when I don't get around to reading what I planned to read, there's a sense of accomplishment knowing that I make reading a priority. However ...
The school year is winding down, which means I'm a bit preoccupied with my kids finishing school this week, my poor attempts at trying to get the library in order by the end of next week, my husband's graduation from his PhD program this weekend, Father's Day on Sunday, and planning for the summer. All of that combined means I'm behind in my reading! I know, I know, excuses, excuses, but sometimes real life gets in the way.
WHAT I READ LAST WEEK:
Betty Bunny Wants Everything
by Michael B. Kaplan
Teach Your Buffalo to Play Drums
by
Audrey Vernick
The Real Princess: A Mathemagical Tale
by
Brenda Williams
The Owl and the Woodpecker
by
Brian Wildsmith
Bobbie Dazzler
by Margaret Wild
Madam President
by
Lane Smith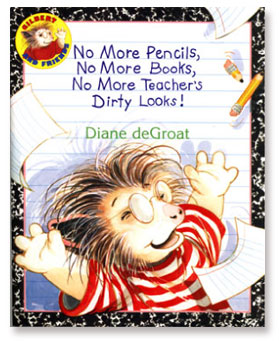 No More Pencils, No More Books, No More Teacher's Dirty Looks!
by
Diane De Groat
WHAT I'M READING NOW:
WHAT I PLAN TO READ THIS WEEK: