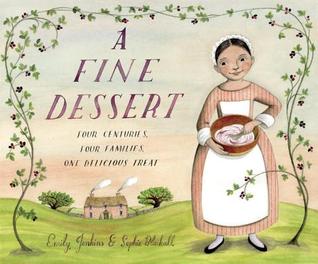 This book is already getting a lot of love, but I have to share how much I adore it as well. First of all, you should know that I am quite the fan of the illustrator,
Sophie Blackall
. Second, I love food (eating and, to a lesser extent, cooking) and I'm interested in food history. So, when I read on Blackall's
blog
back in late-2013 that she was working on a new book about a dessert, I was immediately intrigued.
Fast forward almost a year-and-a-half, and that book has arrived in the form of
Emily Jenkins
's lovely
A Fine Dessert: Four Centuries, Four Families, One Delicious Treat
. As the title suggests, the book follows one dessert (blackberry fool) across time and place:
Lyme, England (1710): white family, mostly likely upper middle class
Charleston, South Carolina (1810): slave family serving a white family
Boston, Massachusetts (1910): middle class
San Diego, California (today): middle class, literally, a "Modern Family"
Despite its simplicity, it's a historical and sociological look at class, race, commerce, and technology. On the surface, it's a story of how people have been making blackberry fool since the 1700s. But, combined with the illustrations, it tells a more subtle story about the evolution of culinary tools (whisks made from twigs morph into electric hand mixers after three hundred years), social hierarchy (African-American slave families serving white families to middle class families with some disposable income), and family dynamics ("traditional" -- for lack of a better phrase -- families with two parents to a multiethnic family headed by a single dad <-- if I misinterpreted the last vignette with the father and son, please let me know).
Jenkins does not spend time specifically addressing these social and economic issues in her text, but there is wonderful back matter. Each question I had as I was reading the book (slavery and racial themes, feminism in regards to domestic work) was addressed in her author's note. It's a gentle way to bring up these topics with young readers of all ages. I think this is a great book for parents to be involved in from start to finish on so many levels.
Jenkins clearly put thought into the structure of her book. Her intention is to tell two stories, essentially: most obviously about dessert, but also the universality of the bond between parent and child and how food can strengthen that bond.
The book is all the more enhanced by Blackall's soft illustrations. The details (blackberry thorns snagging at aprons, fingers stained purple from berry juice) and the historical accuracy depicting time and place aren't in-your-face but blend naturally and beautifully into the story. Blackall also provides illustrator's notes at the end of the book, which are a must-read.
Without a doubt, this is one of my favorite picture books of 2015 and it's probably in the Top 10 or 20 of my absolute favorites of all time. I'm keeping my fingers crossed that it gets some awards love in the coming year (it already has starred reviews from Kirkus, Booklist, School Library Journal, and the Bulletin of the Center for Children's Books).
In the spirit of the book, my daughter and I made the dessert together from the recipe in the book, and we shared it with our immediate family.
The recipe:
2-1/2 cups fresh blackberries (or other berries work too, as well as frozen)
1/2 cup sugar, divided in two
1 teaspoon vanilla extract
1-1/2 cups heavy cream
1.
Mash the berries with a potato masher or fork (or a food processor). With clean hands, press the crushed berries through a sieve to remove the seeds. Sprinkle the berries with 1/4 cup of the sugar and stir.
[Just like in the book, parent and child made this batch of blackberry fool.]
[Pressing the berries through a sieve was the hardest part.]
[In the end, it was easier to use a spatula to press the berries and scrape the puree off of the underside of the sieve. I helped with this part because it took 5+ minutes of scraping and spreading the berries across the mesh.]
2.
In a separate bowl, mix together the rest of the sugar, vanilla extract, and cream. Using a whisk or hand blender, whip the mixture until you have soft peaks (but not stiff).
3. Fold the berries into the whipped cream. Add more sugar if it's not sweet enough. There should be streaks of white and whatever color your berries are.
4. Refrigerate for three hours before serving.
5.
And don't forget to lick the bowl!
If I had to be absolutely nit-picky, the one qualm I have is at the end, when the modern family in San Diego is enjoying the dessert outside. One of the kids is chasing a firefly and, if I'm not mistaken, fireflies are very rare west of Kansas (and those that do make Southern California its habitat aren't luminescent as adults). But that's hardly enough distraction to take away from the book.
Edited May 8, 2015 :: Sophie Blackall was kind enough to read this post, and not only took the time to comment (see below) but also
wrote a post on her own blog
(which I also commented on)! She was very gracious and I was upset at myself that my comment made her feel "a tad crestfallen." But, luckily, her studio-mate
Sergio Ruzzier
was able to find evidence of fireflies in California!
Fun Facts:
A Fine Dessert: Four Centuries, Four Families, One Delicious Treat
by
Emily Jenkins
illustrated by
Sophie Blackall
published by Schwartz & Wade Books, an imprint of Random House Children's Books
© 2015